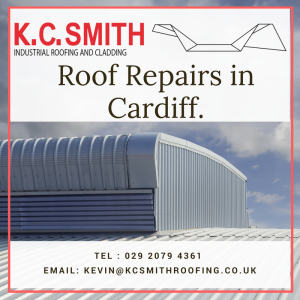 Professional Roofing Repairs from KC Smith Roofing
Here, at KC Smith, we understand the importance of carrying out professional roof repairs in Cardiff. An essential component of any home is the roof, as it shelters you from the harsh British weather. Your roof needs to be looked after, as any damage to it cause leaks and even structural failures when the damage is severe enough. If your roof does need a repair, KC Smith will be able to help you. We are a team of experienced roofing contractors who specialise in roof repairs in Cardiff and surrounding areas.
What are Some Common Roof Problems?
We can tackle:
Broken roof tiles: we can find suitable tiles which match with the rest of your roof;
Leaking roofs: in no time at all, before the leak becomes a deluge or raging torrent;
Metal roofing and cladding: by replacing part of, or the whole of the roof;
Rainwater build-up: prevention is better than cure; we can stop your flat roof from sagging;
Gutters: as part of or separate to our roof repairs, we can maintain your guttering system.
Chimney Damage: our roofing company can carry out chimney repairs, preventing more damage to your roofing system.
Roof repairs usually vary in their nature. Some are the tiniest of faults, such as a broken roof tile, which can usually be replaced easily.
Leaks are also a relatively easy fix, and are something that needs to be repaired as soon as possible. Water can seep through the floor under hole, which can cause the floor to rot if it has wood floorboards. If there's electrical equipment is underneath the leak, this needs to be fixed immediately, as this is a severe fire hazard.
Other roofing repairs are larger. A common occurrence for old, flat roofing is a build up of rainwater on the roof. This will start cause the roof to warp under the weight of the rain water, before inevitably collapsing, leaving a large hole in the roof, along with a very wet room.
Issues like this need to be fixed before the inevitable hole in the roof situation, but sometimes it is difficult to detect until the problem becomes severe. Flat roofs can be built to prevent this. The roof is built so that water is able to drain off one side into a drainpipe, rather than collect in the middle.
Contact KC Smith for roof repairs in Cardiff
Whether it's a small leak, missing roof tile or even a large hole in your roof, contact us below for a quote, or call us on 029 2079 4361 no matter what the roof repair job. Our team of highly skilled roofers will be able to help you out. In addition to our roofing repair services offered in Cardiff and areas within South Wales, we can also help with metal roofing and cladding, industrial roofing services and gutter lining.